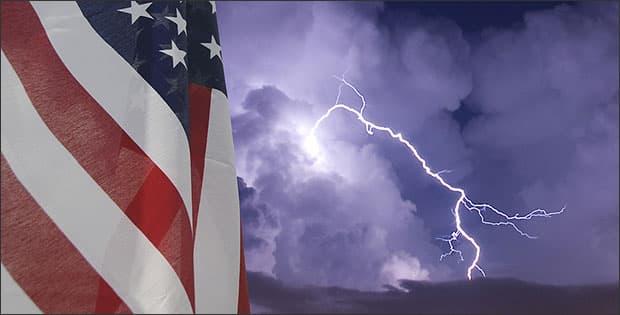 America's memorial statues and monuments are under fire. Looting and rioting broke out in many U.S. cities at the end of May in the wake of George Floyd's death. Many Americans looked on in shock and fear from their video screens and home windows.
Some people wondered if peaceful protests in their cities would turn into burning and rioting like it did in Minneapolis. It has taken just five short weeks for this kind of destruction to become commonplace. The tearing down of statues all over the country seems like a daily occurrence.
Crowds of protestors have torn down and defaced memorial statues of Christopher Columbus, Francis Scott Key, Thomas Jefferson, George Washington, Andrew Jackson, and Abraham Lincoln, among others.
It was once a debate over whether to keep statues of confederate soldiers and leaders. It has now become something else.
These memorial statues of our nation's founders have been torn down by mobs of people. Moreover, the vandalism has reached even to our nation's capital, where several monuments were defaced.
For example, a crowd attempting to topple the statue of Andrew Jackson had to be dispersed with pepper spray to save the memorial.
Executive Order and Veterans' Memorial Preservation and Recognition Act
When President Trump signed an executive order to reinforce protections for national monuments, no doubt, he hoped it would add incentive to governors, mayors, and other state and city officials to protect them. President George W. Bush signed the Veterans' Memorial Preservation and Recognition Act in 2003.
Rep. Jim Sensenbrenner of Wisconsin cited in his report on behalf of the Committee on the Judiciary that there had been several attacks on national cemeteries prompting the act. In 1997, seven cemeteries in Hawaii had been vandalized with racist and profane statements. The results were several thousand dollars' worth of damage.
Anyone wondering about the 10-year prison sentence threat in President Trump's tweet leveled at would-be monument destroyers can look at this law.
The law states that anyone who "willfully injures or destroys, or attempts to injure or destroy, any structure, plaque, statue, or other monument on public property commemorating the service of any person or persons in the armed forces of the United States shall be fined under this title, imprisoned not more than 10 years, or both."
Additionally, the law applies to anything commemorating veterans. This includes a structure, statue, plaque or monument on property owned by or under the jurisdiction of the federal government. President Trump's executive order threatens to withhold federal funding from law enforcement agencies that fail to protect them.
Takeaway
In conclusion, it remains to be seen how local law enforcement officials will respond to the President's Executive Order. We know that many protestors haven't faced serious penalties for this because the statues continue to fall.
If you are facing charges, you will need an experienced criminal attorney to help protect your rights. Call my office today.