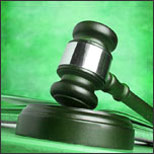 What would it take for you to take a plea deal?
Kwame Kilpatrick may be behind bars, but Detroit is still facing more corruption trials. Michael Grundy was the former top aide to Robert Ficano, the Wayne County Executive, is facing charges of fraud, extortion, conspiracy, money laundering, and obstruction of justice.

On May 28, 2013, the Detroit Free Press released an article reporting the Grundy had accepted a plea deal.
According to the indictment, Grundy and a friend, Keith Griffin, engineered a kickback scheme to bilk hundreds of thousands of dollars from Wayne County HealthChoice, an insurance program for people who live and work in the county. Grundy ran HealthChoice and was an assistant county executive to Ficano, who fired him Nov. 7, 2011, for not cooperating with a federal probe of county government."
It remains unclear what Grundy is actually pleading guilty to, especially when his lawyer has been quoted as saying that his client has "unequivocally" denied the allegations. It does make you wonder at what point it becomes a good decision to take a plea deal.
We saw Victor Mercado, the former head of the City of Detroit Water Department and co-defendant, take a plea deal in the Kilpatrick Enterprise Corruption trial. His plea deal consisted of 18 months in prison, $100,000 in fines and the possibility for probation. With the Kilpatrick trial finished, we can say Mercado got the best deal.
Sometimes taking a plea deal is the best option. That is why it is so important to have a experienced and aggressive criminal defense attorney that can help you decide if that is the right option for you. If you are facing charges and are considering taking a plea deal, please do not hesitate to call me with any questions.