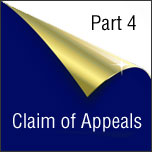 Do I need to need to wait a certain amount of time before I can file for my appeal?
Welcome back to our series, How to File an Appeal in Michigan. This series is about breaking down the appeals process by examining the Michigan Court of Appeal Handbook.

If you are new and looking to get started, I would recommend starting with 3 Facts to Know about the Michigan Court of Appeals.
Now that we know the who, what and where, we can take a look at the "when" one should file.
For Criminal Cases. The Handbook tells us "The time to file a claim of appeal is controlled by MCR 7.204(A)(2)."
You may file:
Before 42 days following the entry of the judgment or the order you would like to appeal,
Before 42 days following the entry of that has denied "a timely filed motion for appointment of counsel",
Before 42 days following the entry of the order denying a motion filed in a "timely manner" for new trial in the circuit court, judgement of acquittal or resentencing.
For Civil Cases, you have 4 options when to file an claim of appeal:
Before 21 days following the judgement or order you would like to appeal
After being denied in a "timely filed motion for a new trial reconsideration, or other postjudgment relief", you must file within 21 days.
If you rights as a parent have been terminated you must file within 14 days of the order that:

terminated your rights as a parent
denied your "timely filed" requested for postjudgement relief
denied your "timely filed"  plea for counsel to be appointed

Please note how often "timely filed" has been quoted and italicized. This has been done because of the importance of filing everything in the time that is allowed.

Lastly, the claim must be filed as the statue governing has provided for your distinct case.
On Wednesday we will be ending the Claim of Appeal section with part 5. I will be taking an in-depth look into the last section that the Handbook called "HOW Must a Claim of Appeal be Filed?"
If you feel nervous about when to apply and if you have applied in a "timely manner", please do not hesitate to contact me.
Please Note:
While the Michigan Court of Appeals Handbook is written for an individual who is not represented by a lawyer, please note the word of caution in the introduction below. If you need help filing a appeal, call me at: 248-348-7400.