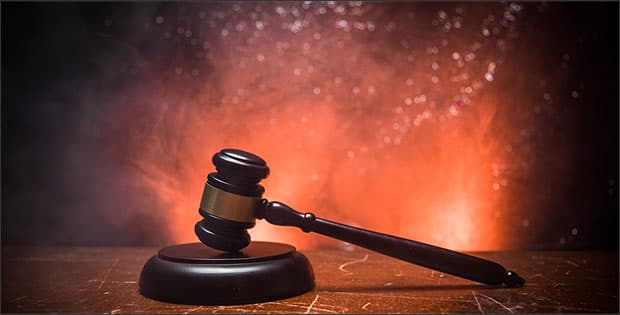 Being involved with explosives in Michigan is a serious crime with harsh consequences if convicted.
There's no getting around it. This is a charged time in our country. Michigan has come under national scrutiny again and again for its divided politics, lockdown policies, and extremists.
Now, Michigan is one of four states to be sued by the state of Texas for undermining the national election by enacting a large-scale mail-in ballot procedure without going through a legislative process.
On Saturday, December 5, 2020, a group of protestors showed up at Secretary of State Jocelyn Benson's home over her certification of Michigan's election. Some of them were carrying guns.
Ms. Benson was decorating for Christmas with her four-year-old son when this happened. Although the police did not arrest anyone, they dispersed the crowd.
Children of lawmakers and elected officials should not have to be afraid in their own homes.
Politically Motivated Bomb
As an example, one Macomb County couple had two bombs thrown at their home on December 5, 2020. The homeowner assumes was a politically motivated attack.
The homeowner, whose identity is unpublished for his protection, was asleep upstairs with his girlfriend in the early morning hours when someone lit a bomb and threw it into his house, where it blew a hole in the floor and cracked some of the walls of his living room. 
In surveillance video captured by the homeowner and his neighbor, the suspect can be seen lighting and throwing the first bomb. Additionally, the video shows the explosion of the second bomb, which didn't enter the house and did not do as much damage. 
The homeowner assumes the attack was politically motivated. He told reporters that he's an avid Trump supporter and always has his Trump sign up in his yard. 
Penalties for Explosives in Michigan
We have seen quite a bit of politically motivated bombing and setting fire to things this year. Whether this particular attack was political, it's not hard to imagine.
Whatever the motivation, here is what Michigan legislation has to say about explosives:
Michigan Penal Code Section 750.200i makes it illegal to: 
Manufacture
Deliver
Possess
Transport
Place
Use 
Release
A harmful substance or device which is biological, chemical, radioactive, electronic, or electromagnetic in nature. 
Penalties
Possession or transportation constitutes a felony punishable by 15 years in prison and up to $10,000. 
Property damage, as a result, upgrades the felony to 20 years in prison and up to $15,000.
Injury less than serious impairment is a 25-year felony and up to $20,000
Serious impairment of another person is up to life in prison and $25,000.
Death of another person, directly or indirectly, is life in prison without parole and up to $40,000.
Federal Explosives Charges
On top of Michigan's laws, federal charges may apply in situations as serious as bombing someone's house. Federal firearms laws include regulations for explosives. However, there are additional federal explosives laws including 18 U.S.C. §922, 18 U.S.C. §924, 18 U.S.C. §842, and 18 U.S.C. §844
Federal firearms laws state that anyone who carries an explosive with intent to commit a felony may receive up to 10 additional years in prison. Moreover, a second conviction of this law could bring a charge of 20 years.
Anyone who conspires to throw an explosive – meaning plans or talks about it with others without actually carrying out the crime – may be sentenced to up to 20 years in prison.
Takeaway
The Macomb County homeowner is offering a $10,000 reward for any information about the suspect. The St. Clair Shores Police Department is still investigating the crime.
Regardless of what you have heard or seen from members of Antifa around the country during protests, it is highly illegal to use explosive devices or even to possess them.
The best way to avoid a significant amount of time in prison is to get as far away from that activity as possible. The assailant from this story is looking at least 20 years in prison and hefty penalties. No political activism is worth that. 
Experienced Michigan Criminal Lawyer
Finally, if you are or someone you love is being investigated for a serious crime, do not face this alone. Your best defense is to have an experienced criminal attorney by your side.