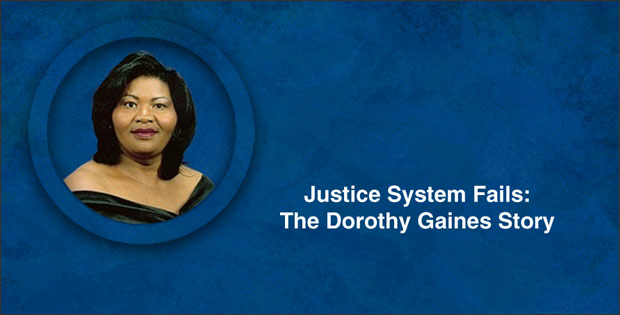 We have all heard of stories where the justice system fails a person. In the story of Dorothy Gaines, we can see the 360-degree impact that can happen to a family that has been hit hard by the system.
Dorothy Gaines was a widow raising her younger sister and brother and her own three children in Mobile, Alabama. She was a nurse technician and PTA parent. In 1994, she found herself sentenced to 19 years and seven months in a federal prison.
How does something like this happen?

In 1993, Alabama state police raided Gain's home looking for drugs, but none were found. The charges were dropped. A year later, federal drug dealers, desperate to reduce their own sentencing, lied and named Gains an accomplice in their sale of crack cocaine. She insisted she was innocent.
The Justice System Fails
The federal drug dealer's allegation was the only evidence against Gaines. Moreover, the court-appointed lawyer failed to cross-examine them to raise a defense. When sentenced, Gaines' nine-year-old son, Philip, jumped in the judge's lap and begged the judge not to take away his mom away.
During Gain's first year in prison, her son, Phillip, attempted suicide three times. Her eldest daughter, Natasha, had to drop out of nursing school to help take care of her bother. Phillip, who was once an honor roll student, became a ninth-grade dropout, has been convicted of cocaine possession and robbing two men at a gas station. He is now serving a 20-year prison sentence for being found guilty of a second robbery and is leaving behind a 9-year-old child.
Dorothy Gaines continued to maintain her innocence. She wrote a letter a day for six years when she finally caught the attention of civil right advocates. Soon, she gained media attention and finally President Clinton's.
In 2000, President Clinton commuted her sentence, which allowed her to finally go home to her family. However, Dorothy Gains still had a record. She struggled to find work with a felony conviction.
Women in Prison
The concept of women in prison is remotely new. Women's prisons barely existed 30 years ago, and there are ten times as many women in prison today as there was in 1980.
Criminally related television shows and movies often depict prisons  filled with violent criminals. However, the truth is that most are in for non-violent crimes. In fact, 58% of women in federal prison are non-violent, low-level drug offenders doing an average of 7 years in prison. According to the Huffington Post,
"Our record rate of incarcerating women originates largely from the War on Drugs itself. As the media galvanized public fear over crack cocaine use in the mid-1980s, Congress established "mandatory minimum" sentences for people caught with small amounts of drugs."
Gains Continues to Fight
Gains continues to fight for others in the prison system; other women like her who have either been wrongly accused, or given sentencing far exceeding the crime. She advocates by sharing her story at lobby day events, schools, and churches. She also counsels the families that are waiting for their loved ones to return. In addition, she has created her own curriculum, "Holding the Bag," for public schools which teaches youth to be cautious about taking on other's belongings.
"My going to prison has not been in vain, said Gaines, "I will fight until everything has been changed."
Seek Legal Help
If you or someone you love has been charged for a crime they have not committed, please contact us today. No one should have to endure what Dorothy Gains and her family have. It is our goal, here at The David J. Kramer Law Firm, PLLC to do everything in our power to make sure our defendants do not receive unjust sentencing.