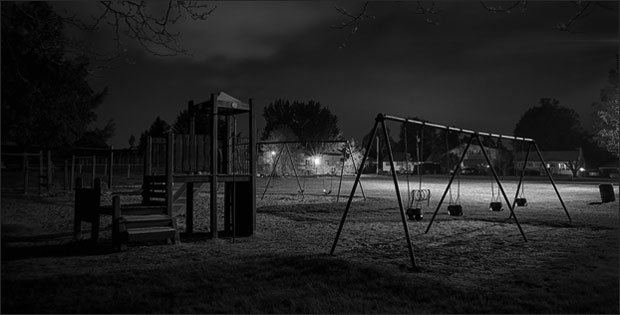 With a sad heart, we bring you breaking news out of West Michigan where a 12-year-old boy stabbed and killed a 9-year-old boy.
It was a normal day in Kentwood, Michigan, near Grand Rapids. Four boys were playing on a playground late Monday afternoon. Two of those boys were brothers, and one was their best friend. The other boy was the 12-year-old who pulled out a steak knife and repeatedly stabbed 9-year-old, Michael Conner Verkerke, in the back.

Michael ran home and collapsed on the porch of his home at approximately 6 pm. The ambulance arrived and took him to the hospital where he died.
These kinds of incidents are the ones that make you sick to your stomach and leave us all over the county asking how something like this could happen.
The 12-Year-Old Turned Himself In
The 12-year-old was described by witnesses as calm and with big eyes according to Fox News. ABC News reported that the 12-year-old was the one to call the police to turn himself in and even flagged the officers down when they arrived at the Pinewood Village mobile home park where Michael Conner Verkerke lived.
CBSNews reported that Glen Stacey, a man who lives nearby, was approached by the 12-year-old. The boy had asked to borrow Stacey's cell phone. Here is what Stacey had to say,
"I gave him my phone and I heard him tell the 911 operator, 'I just stabbed someone. Come and get me. I want to die."
Stacey also reported that the boy had said he had taken multiple pills earlier that day because no one loved him. The boy stayed completely calm until he yelled to get the police officer's attention saying, "Hello, I'm right here. You're going the wrong way."
Was There A Motive?
It is currently not clear what the motive was or even if the two boys knew each other. Tiffany Armijo, whose son was playing with Michael before the attack, reported that she had never seen the 12-year-old before.
Kentwood Police Chief Thomas Hillen reports that the motive for the attack is still being investigated.
What's Going to Happen to the 12-Year-Old?
After the boy was taken to be evaluated at the hospital he was taken to Kent County Juvenile Detention Center. His lawyer put in a not-guilty plea. The Associated Press is not releasing the name of 12-year-old because of his age.
According to Chris Becker the chief assistant prosecutor for Kent County, the boy is to be designated as an adult in the juvenile court system. What that means and if allowed, the boy will be sentenced as a juvenile and then once he turns 21 as an adult.
August 13th will be the preliminary hearing.
Will the Boy Be Sentenced to Life Without Parole for the fatal stabbing?
It was two years ago that the Supreme Court ruled that sentencing a juvenile to life without prison as unconstitutional. Prior to that, Michigan had the third highest rate for locking up juveniles for life without parole.
In an article I wrote in June of 2012 called Michigan Juveniles Sentenced to Life Receive Possible Second Chance, we examined the new legislation when it passed.
This legislation might be part of the reasoning behind the authorities are waiting to try the boy until he is an adult.
Other 12-Year-Olds Who Made Headlines
Two other 12-year-olds who were recently in the news were also set to be tried as adults as well. You may remember the story about Slender Man and the two 12-year-olds who plotted to kill their friend.
In this case, the victim lived, but the girls are being tried as adults and facing 65 years in prison for first-degree intentional homicide.
You may read more about that story in Slender Man and How Two 12-Year-Olds are Shocking the Nation.
Summary
It is impossible to understand how these types of things could even happen. Since they have happened, what does society and the courts do with these three 12-year-olds that have committed such gruesome acts of crime?
Should 12-year-olds be tried as adults? Please let us know your thoughts in the comment section below.