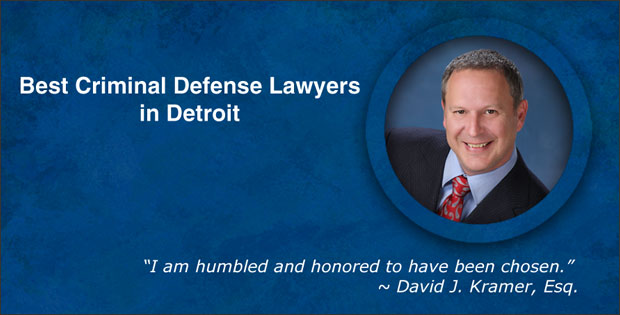 Are you in need of expert legal counsel for criminal defense in Detroit? Do you know how to find the best lawyer for your case?
Welcome to Expertise, where David J. Kramer has a spot in a small pool of Detroit's best criminal defense lawyers. Time and again, David Kramer has won awards for his expertise in legal matters, his service to the citizens of Detroit, his excellent reputation, and the consistent results he has achieved.
About Expertise
How do you know that a rating on a website qualifies an attorney for one of such a small pool of Detroit's most excellent criminal defense attorneys?
One reason is that no business can buy a spot on an Expertise "best" list. The list is compiled by experts and for the service of ordinary people who are looking for the best professionals in their fields.
When you need excellent criminal defense representation, you want to know you are choosing a lawyer with experience. You want to know he has experience winning.
"Unlike most other websites and directories, a business can't pay to be included on Expertise. This gives our users the confidence to find and connect with exceptional businesses that are objectively qualified and authentically well-reviewed."
Expertise uses a proprietary research and selection process to determine the best professionals in your city in over 100 professions. To date, Expertise has covered 85% of the United States.
Painstaking Research
Expertise chooses professionals from a large pool of active professionals in each business category it includes in its search: Home and Garden, Legal, Design, Photography, Small Businesses, and Green businesses. In addition, researchers at Expertise verify all license information and check to make sure each company is in good standing with its community.
But that's not where it ends!
What makes a rating from Expertise so prestigious is that this company applies its in-house software to grade each business using publicly available information based on the following criteria:
Reputation: A history of satisfied customers giving excellent recommendations.
Credibility: Established in their industry with licensing, accreditations, and awards.
Experience: Masters of their craft, based on years of practical experience and education.
Engagement: Approachable and responsive to clients and available for new business.
Professionalism: Dedicated to providing consistent quality work and impeccable customer service.
Hand-Picked Excellence
When Expertise's software has narrowed the pool of potential businesses and professionals, the team reviews each profile. Then, Expertise's team hand-picks the men and women whose work, reviews, and reputation earn them the top spots in their field. Of this small pool, Expertise lists professionals in alphabetical order on the company's website.
The bottom line is, you can't get on this list by paying for advertising. The only way to get on this list is through excellent service and proven results. Expertise's list is evaluated on a yearly basis, and minor adjustments may be made throughout the year.
"I am humbled and honored to have been chosen for Expertise's Best 21 Criminal Defense Lawyers in Detroit," said David Kramer. "Winning cases is critical. However, taking care of my clients' individual needs is my main focus."
Choose the Best Criminal Defense Lawyer in Detroit
David J. Kramer's reputation and results have spoken. With 27 years of experience, consistent awards and testimonials of client satisfaction, and now a top rating in Detroit on Expertise.com, when you hire David Kramer to fight for you, you are getting the best.
One of David's clients stated, "David is Detroit's best and top criminal justice attorney. Do not hesitate to hire David if you are facing legal troubles. You won't regret it!"